From Veteran to Ultramarathon Runner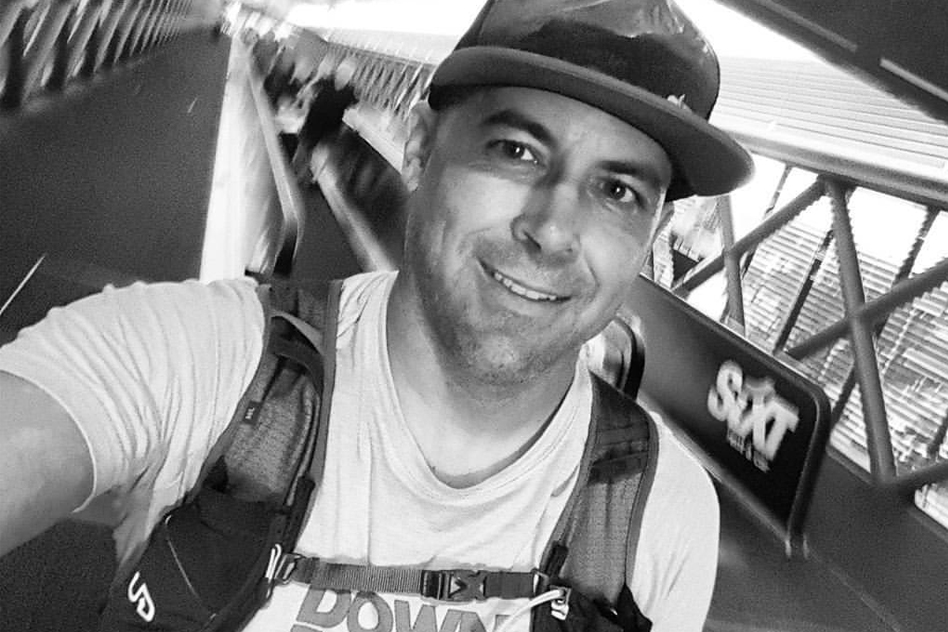 I've never really had an off switch. Some describe it as an "addictive personality." I call it grit. My name is Robert Rounsavall. I'm a father of three, entrepreneur, ultramarathon runner, race director, BMX bike enthusiast, kettlebell junkie, veteran, and volunteer.
From 9:00 to 5:00, I'm the founder and President of a cybersecurity startup called Trapezoid, where we're innovating breakthrough technologies in IT security space. Outside of work, when I'm not putting time in on the road, trails or with the people I love, you'll find me dabbling in the South Florida standup comedy scene.
Professionally, I've specialized in cybersecurity response—protecting and defending large enterprises, the U.S. government, and politicians from hackers. I combined my background in IT security with my military experience as a Navy Cryptologic Technician Chief to launch Trapezoid in 2011.
Fast forward two years and the combination of stress from launching a startup and a very busy travel schedule was paying a toll on me. I packed on a few extra pounds… ok 20 or 30, to be frank. I wasn't happy with how I looked or felt. Something had to change.
Back when I was on active duty, I'd gotten into running. Although, excluding a few sporadic attempts here and there, I'd taken a 15-year hiatus from it.
So when I'd reached my breaking point with my weight and anxiety, I found my way back to running as the catalyst for my change. It was the summer of 2013... I had done some of the home workout videos like "Insanity" and "P90X" and found myself getting bored midway through some of the workouts. Instead of finishing the workout, I would go out and run, and eventually hooked up with a local running group.
After six months of training, I was weeks away from running my first 100K (or 62 miles) trail race. It wasn't until the week before the race that a well-meaning friend talked me into attempting the more grueling, 100-mile version of the race that was being held that same day. Why not?
Well, somewhere between temperatures hitting below-freezing temperature the night of the race or the fact it was the first time I'd ever run 18 hours straight, but my body was speaking clearly: I'd reached the end of my rope. I had to throw in the towel.
Thus, my first ultramarathon became my first DNF or "Did Not Finish I didn't care. No DNF could have stopped me from realizing that I'd just pulled off something special.
Sure, I didn't complete my planned 100-mile journey. However, I topped 60 miles (perhaps I should've stuck with the 100K, after all) and for me, that was cause for celebration. With only six months of training under my belt, I'd unofficially finished my first 100K race on my first attempt at ultra-running.
All-in-all, it was an amazing experience full of lessons learned that left me hungry for more. I was hooked!
Three years and a few (ok… almost 20) ultramarathons later, things have changed quite a bit. My knowledge of and experience with training, diet, nutrition, and exercise have grown substantially. I've shed 30 pounds of body fat. And thanks to incorporating CrossFit and other cross training to my workouts, I've put on about 10 pounds of lean muscle, which has really helped my endurance.
I completed my second hundred miler and gotten faster across the board at all distances. I've been lucky enough to support, help my friends compete in, and finish some epic beautiful and difficult races, such as the Leadville Trail 100 (a 100-mile race in Colorado that's almost all above 9,000 feet of elevation), the Bigfoot 200 (yep, a 200-mile trail race with just under 100K feet of elevation change that goes around Mt. St. Helens), and finally, my bucket list race, the Badwater 135.
The Badwater 135 starts at the Badwater basin—the lowest point in the United States—and climbs up Mt Whitney to the highest point in the continental United States. Oh! And it's in July, so it's a little warm (temperature can exceed 125 degrees). The pavement can literally get hot enough to make your shoes melt. What could possibly go wrong, right?
Life these days is a constant rollercoaster ride that is teaching me a ton lessons, both personally and professionally. A typical month for me will have me on an airplane at least once or twice, often heading to DC for work or occasionally to some cool destination for my next ultramarathon.
As far as my startup, Trapezoid, we've secured two patents and have a third on the way, as we continue to define an all-new space in the IT Security industry. Outside of the office, if I'm not with my family, I'm training to get faster while preparing for a handful of 100-mile races that will hopefully be my "yellow-brick road" to Badwater.
I'm thrilled to join the ranks of Team Champion. As an athlete with a day job and a family, striving to achieve greatness in every area of my life, Champion Performance is a brand I'm proud to align with that echoes my ambitions to reach the many bars I set in life.
I invite you to join me on my journey. Stick around as I share some of my aspirations, challenges, training regime, and the adventures that keep my life interesting. I hope you enjoy what you see! And whether you feel inspired to connect or just want to talk ultra-running, drop me a line. I'd love to hear from you.