Turn Missteps into Learning Lessons | Spartan Championships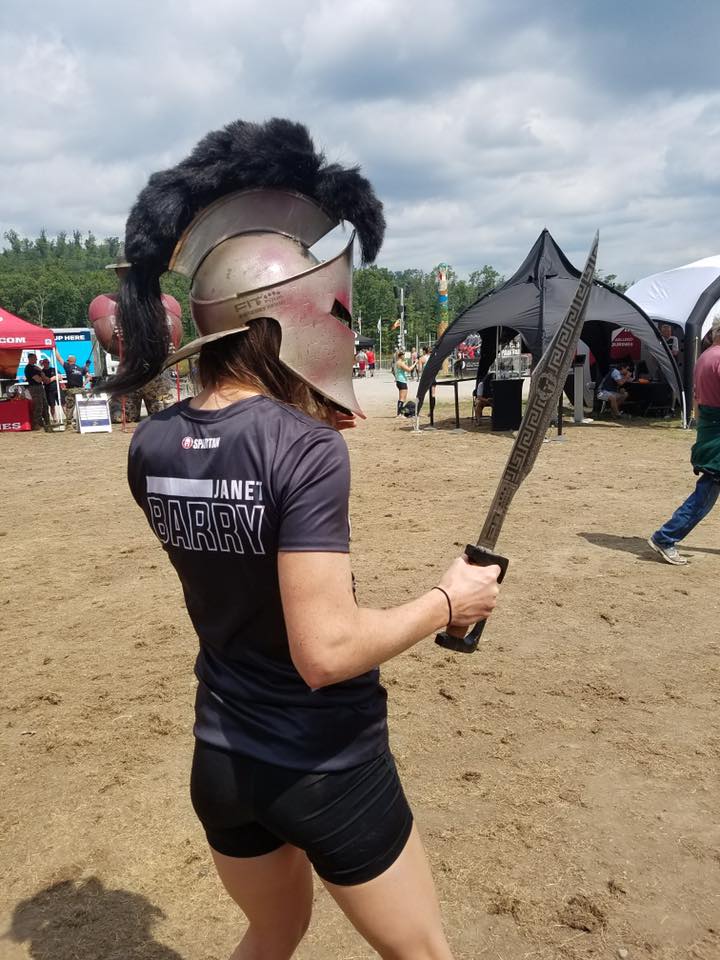 by Janet Barry
Two weeks before the Spartan U.S. Championship Series in West Virginia (Last weekend of August), I started suffering plantar aching in both feet and sharp pain in my right heel. When I attended the course preview the night before the big race, I wavered on whether to race or not. I felt even more torn because the course was gorgeous —long and not too hilly.
Before going to bed that night, I decided to assess my discomfort after my warm-up in the morning. On race day, I taped up both plantar regions for the warm-up. The pump up music was playing in the festival area, the mountains were beautiful and my foot felt OK. With the atmosphere, excitement, my adrenaline pumping and no real pain in my foot (just some general aching in both) I decided I was going to race.
Up through the tenth mile of the race, I was coming on strong in sixth place. I felt like I was just cruising along on one of my long runs. I knew that it was my moment, my race. This was going to be my breakthrough when I would place my highest in a championship race. I envisioned the podium within my grasp.
Suddenly, I felt a sharp pull and tug in my right heel. I screamed out in tears and hobbled to the side of the trail. I tried to run again, but it was excruciating to put any weight on the foot. I could see the podium slipping away. I was frustrated and disgusted that I probably just killed my season.
I didn't see any medics, so I started walking without putting weight on the injured part of the foot to avoid further ripping it.
I fell to eighth place while stopping repeatedly for breaks. However, I realized I may be able to still place in the top ten, so I continued to hobble and attack the obstacles. I managed to retain eighth place all the way to the finish line and took sixth for the United States.
Even though I placed in the top ten, I was in physical and mental pain. I was mad at myself for overtraining, which caused the foot pain. I didn't listen to my body and raced despite the pain the day before. And lastly, I didn't follow my promise to myself to get to a medic immediately on the race course when I felt my foot tear. Instead, I walked/hobbled the last four miles of the race.
I'd been coaching myself and realized I had been consistently overtraining and pushing too hard. As an elite athlete, it's challenging to find the right balance. Unfortunately, I paid the price. It's extremely devastating to work so hard and come so close to what should have been a breakthrough.
Now in tears, I have a choice to make.
Being a top athlete is not about being perfect and always having perfect races. I'm one of the best obstacle-course athletes in the country, and I'm determined to use this failure as fuel. Yes, I'm choosing to turn this negative and into a positive. I'm going to review why this occurred and reanalyze my training. I'm going to hire a coach and map out a training plan far in advance. I'm going to focus on upper-body and core work to avoid weight on my foot. I'm going to assess and improve my nutrition and diet. I'm going to use this time to become a better athlete.
Everything happens for a reason. It's not the obstacle that defines you, but how you choose to overcome it.
To learn more about Janet visit her website, or follow Janet on Instagram or Facebook.