The Art of Balancing Parenthood & Exercise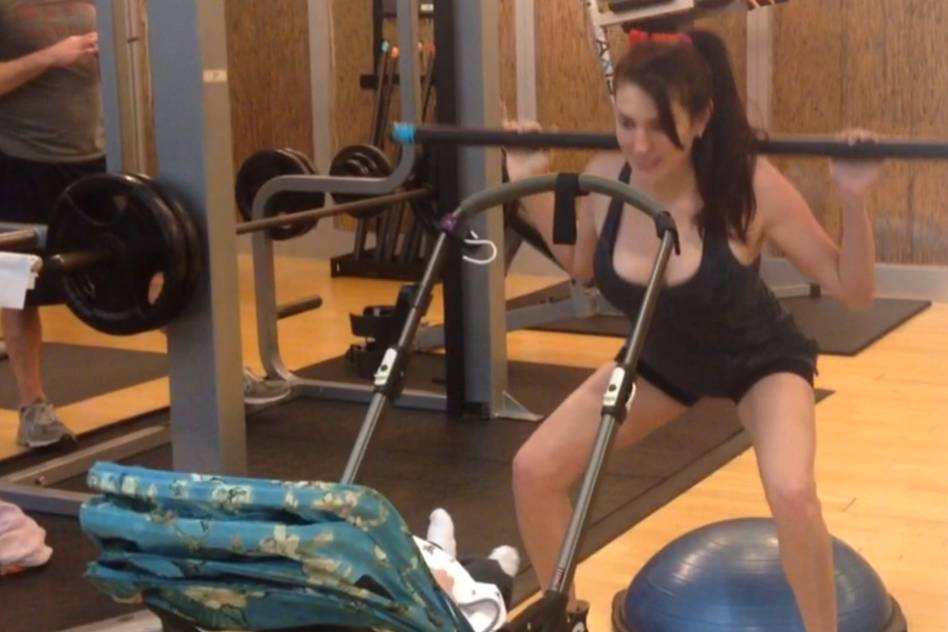 Having a dedicated workout partner is one of the best ways to stay committed to your exercise schedule. It also ensures that you won't slack off during your workouts. I was lucky enough to say "I do" to my spouse/workout partner. We got married and moved across the country: two huge life changes that could trigger weight gain. Because we both encouraged each other to eat healthy meals and remained active, we didn't experience any post-wedding weight gain.   
With no extra funds in our budget for gym memberships we made the most of our move to Southern California by keeping ourselves active outdoors. I also made a small investment in an exercise ball and resistance bands. Fast forward a decade and we still have the same workout partners, but our workouts look very different. We moved into a condominium in Miami and became members of a luxury gym a few blocks from our building. We spent an hour, six times a week, in a weight room equipped with eucalyptus scented towels and all. 
We then decided to expand our fit family. As soon as I became pregnant, I had visions of us jogging together with a baby stroller every evening along the bay. You know, setting a healthy family tradition right out of the gate. Ask me how many times we have jogged with the baby? Let me give you a hint: We don't even own a jogging stroller. My fantasies of what post-pregnancy fitness looked like were crushed my first time in the gym after my baby boy was born.  
I was given clearance by my doctor to begin exercising six weeks after delivery. I confidently strut into my condominium's gym while my husband stayed upstairs with the baby. After a warmup, I began my usual sprint intervals. I lasted less than 8 minutes before I began seeing spots.  
Apparently, the lack of sleep that comes with a newborn and loss of cardio conditioning after months of not sprinting caught up with me. After laying down for a few moments, I walked over to the free-weights section and picked up the usual weight I use to warmup with. To my surprise and disappointment, I was having a hard time even lifting that. I wanted to think it was the lack of eucalyptus in the air, but I knew I couldn't blame the missing aroma therapy.  
The truth was that I wasn't ready to hit the gym; at least not as hard as I used to. I started working out in my living room with an exercise ball and resistance bands as my newest gym partner stared at me from his baby bouncer seat. The first few months of post pregnancy workouts were about getting back into the habit of fitting exercise into my schedule. I was still pretty weak and tired, plus the baby refused to stay too long in the stroller once I started taking him down to the condo's gym.   
I couldn't even workout in the evenings after my husband came home because the baby would "cluster feed" from 6:00 to 10:00 p.m. This would leave me couch bound every evening, feeding the baby on demand every hour or so.  
Between my motherly responsibilities and getting back in shape, I didn't start to feel comfortable consistently working out at moderate to high intensity until around five to six months postpartum. The lack of sleep made it really difficult to push myself the way I used to. Once the baby got the hang of eating solids at around seven months, I could set him on a stricter schedule and he'd sleep longer.     
Now that my son stays in the nursery overnight, only waking up about twice for a few minutes, I feel like I have a bit more time and energy to put into my workouts. My husband now works out during his lunch break in the company gym while I fit my workouts in between feedings and naps... unfortunately neither of which are mine.  
While we haven't been able to work out together since becoming parents, my spouse/workout partner and I balance parenthood and fitness through patience and dedication. By accepting the fact that our workout regimen won't look anything like it used to, at least for a while, we've found a sense of accomplishment in any physical activity we fit into each day. Whether 30 minutes or an hour of exercise, at the end of the day, we know it will make a difference in our health and fitness. And with our newest workout partner at our side, it's a tradeoff that's worth every moment and more.