How to Safely & Effectively Restore Your Core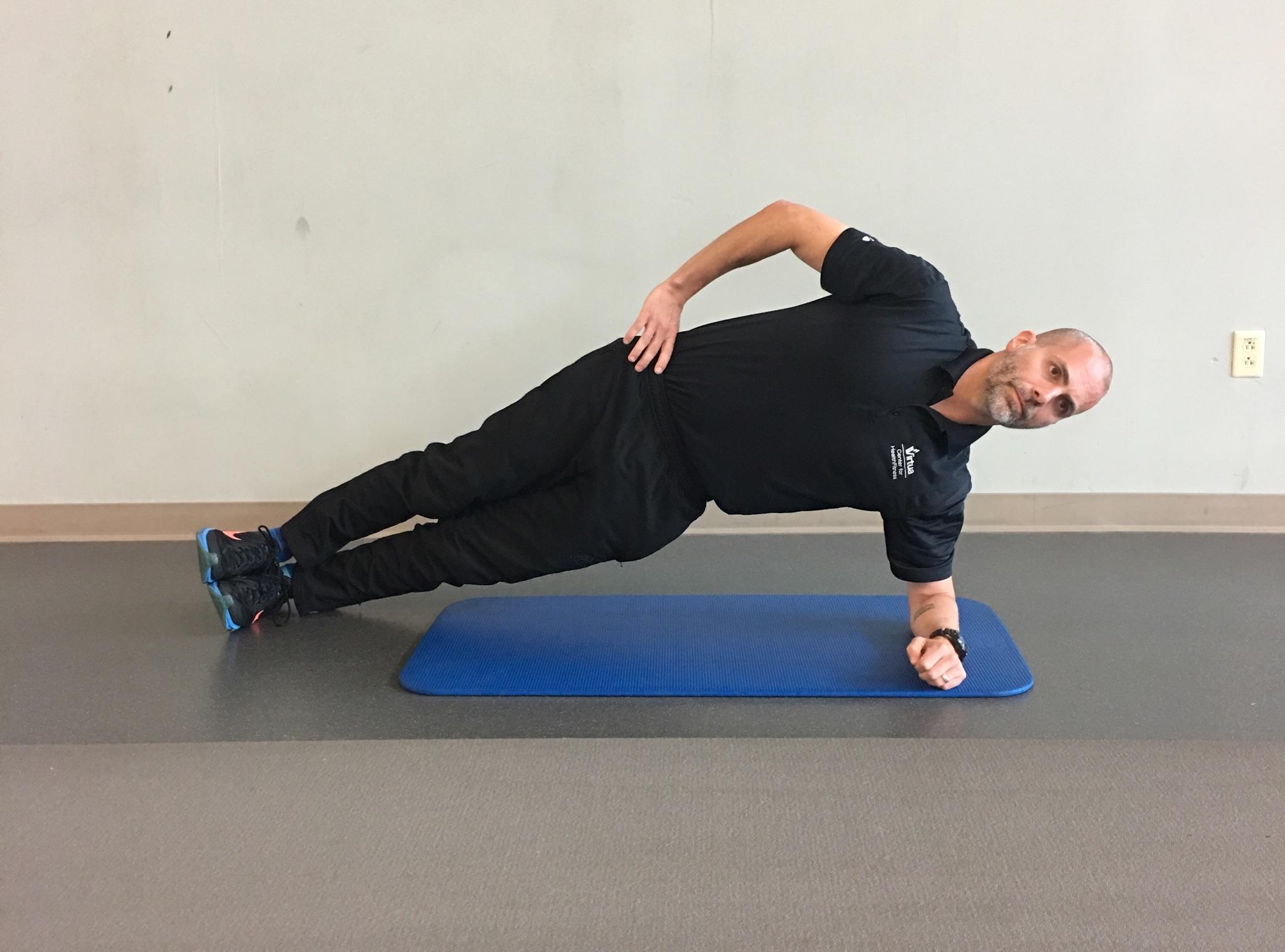 by Jennifer Rendfrey, MS Exercise Science & Jared Coughlin NASM CPT, PES, CES
As a fitness professional, I often get asked about exercises to reduce inches around people's waists, reduce body fat and lose weight. When it comes to core exercises there are many benefits which include weight loss and reduction of body fat around the waistline. But there are many benefits to correctly working your core that are not seen but are even more important.
When defining the core, we need to simply look at the main objective/job of your core muscles. Your core's main job is to stabilize and protect the spinal cord. Most back injuries are due to a weakened core and/or unwanted movements that could be avoided with a stronger, more stable core. So, the obvious question is how do we do that?
Build a Strong Core
To build a stronger, more stable core we need to start at the beginning and build a core that can withstand and control movements. To do so, the Plank is the best exercise to begin this journey. While the basic plank is a great starting point, there are many varieties and progressions of the plank which we will investigate in this article.
Let's start by looking at the basic plank and we'll then begin to add elements to increase the difficulty and progressions of this exercise. The plank is an "anti-gravity" exercise where you simply hold your body off the ground without moving. To start, you'll want to try for 10-15 seconds of a hold and slowly begin to increase the time as your body adapts to the stresses of the exercise.
Begin by grabbing a yoga mat, towel or find a soft surface like a carpeted area in your house.
Basic Plank:
Lie face-down on the floor and bring your elbows underneath you so your forearms are firmly planted on the floor. Then by pushing up on your forearms lift your body off of the ground so the only parts of your body touching the floor are your forearms and toes. Try to keep your body as flat as possible by "bracing" your core area and squeezing your glutes.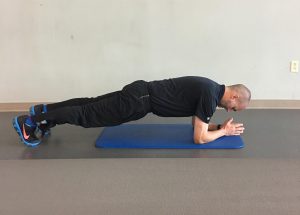 Push-Up Plank:
Begin this version of the plank by assuming the position of the traditional push-up. Instead of lowering your body to the floor, stay in the "up" position of the push-up and hold.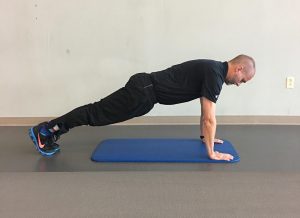 Side Plank:
Lie down on your side, resting on your elbow/forearm and place your feet on top of one another. Press down on your forearm and lift your hips off of the floor and hold. The "top" arm can either rest on your top hip or extend it to the ceiling for an additional challenge.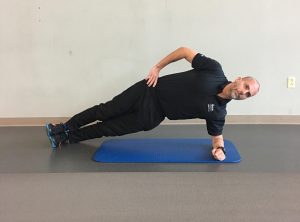 Stability Ball Plank:
Using a stability ball, place your forearms on the ball and walk your feet backwards until you're in the basic plank position. This version of a basic plank will challenge your stability because the ball will slightly rock and move forcing you to not only hold the position of the plank but also stabilize the ball as well.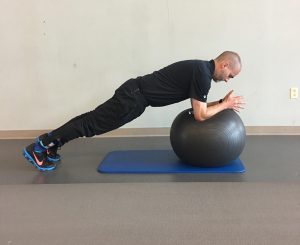 Bosu Ball Plank:
Grab a Bosu ball and flip it upside down so the flat side is up and the rounded side is down. Assume the position of the traditional push-up and hold. Since the bottom of the Bosu ball is rounded and soft you'll be forced to stabilize the position challenging your triceps, chest and shoulder complexes in addition to your core.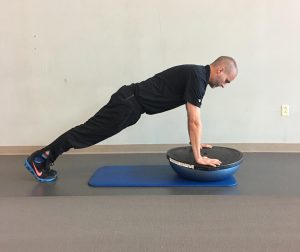 Compound Movement Planks:
A "compound" movement is a secondary movement added to the basic movement or hold you're doing.
"Shoulder Tap Plank" – While holding the push-up position plank alternate reaching up and touching the opposite shoulder with the opposite hand. This will force you to stabilize and minimize any rocking back and forth with your torso forcing the core to engage and work overtime.
"Basic Plank to Push-Up Plank" – Start in the basic plank position on your forearms, transition into the push-up position from your forearms to your hands without breaking your plank position. Then lower yourself back down to your forearms and repeat.
In conclusion, the plank is a fantastic exercise that can be done by beginners to advanced exercisers. The benefits of the plank and other core exercises will build a stronger, more stable and tighter core complex. This will lead to safer and more effective exercise programs and higher fitness levels.
Try this Plank Challenge
30 Day Plank Challenge
Basic
Push-up
Side Plank (Each Side)
Stir The Pot
Day 1
20 Sec
20 Sec
5 Dips
20 Sec
Day 2
20 Sec
20 Sec
5 Dips
20 Sec
Day 3
20 Sec
20 Sec
5 Dips
20 Sec
Day 4
20 Sec
20 Sec
5 Dips
20 Sec
Day 5
MAX
MAX
MAX
MAX
Log MAX Time:
Day 6
Rest
Rest
Rest
Rest
Day 7
30 Sec
30 Sec
7 Dips
30 Sec
Day 8
30 Sec
30 Sec
7 Dips
30 Sec
Day 9
30 Sec
30 Sec
7 Dips
30 Sec
Day 10
30 Sec
30 Sec
7 Dips
30 Sec
Day 11
MAX
MAX
MAX
MAX
Log MAX Time:
Day 12
Rest
Rest
Rest
Rest
Day 13
40 Sec
40 Sec
10 Dips
40 Sec
Day 14
40 Sec
40 Sec
10 Dips
40 Sec
Day 15
40 Sec
40 Sec
10 Dips
40 Sec
Day 16
40 Sec
40 Sec
10 Dips
40 Sec
Day 17
MAX
MAX
MAX
MAX
Log MAX Time:
Day 18
Rest
Rest
Rest
Rest
Day 19
50 Sec
50 Sec
12 Dips
50 Sec
Day 20
50 Sec
50 Sec
12 Dips
50 Sec
Day 21
50 Sec
50 Sec
12 Dips
50 Sec
Day 22
50 Sec
50 Sec
12 Dips
50 Sec
Day 23
MAX
MAX
MAX
MAX
Log MAX Time:
Day 24
Rest
Rest
Rest
Rest
Day 25
60 Sec
60 Sec
15 Dips
60 Sec
Day 26
60 Sec
60 Sec
15 Dips
60 Sec
Day 27
60 Sec
60 Sec
15 Dips
60 Sec
Day 28
60 Sec
60 Sec
15 Dips
60 Sec
Day 29
Rest
Rest
Rest
Rest
Day 30
MAX
MAX
MAX
MAX
Log MAX Time: