Running Into the Fire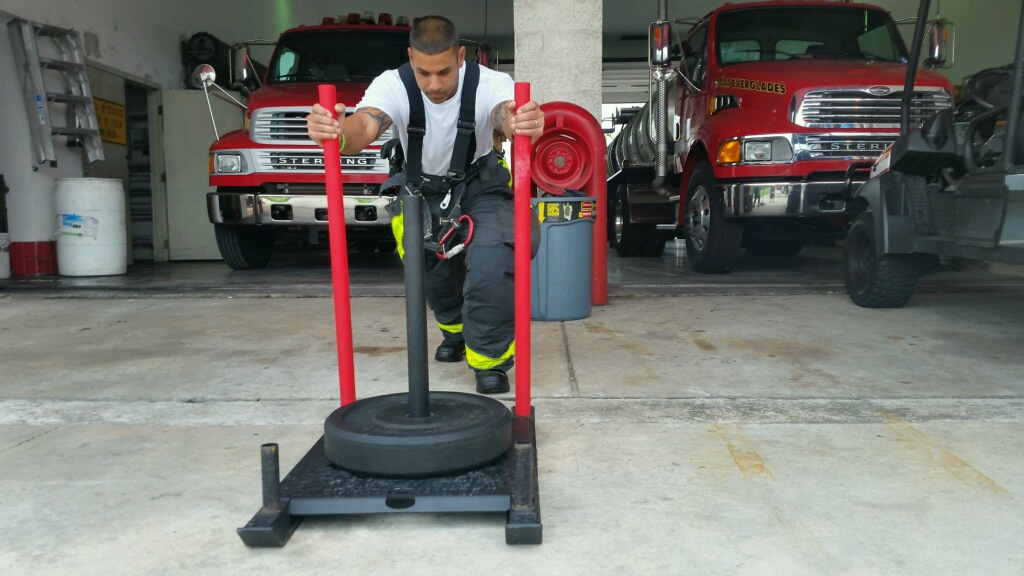 What three things describe me best? Fitness, community, and family. I'm a fitness enthusiast and seasoned firefighter, but most importantly, a husband and father. Basically, I'm just like every one of you out there whose extremely busy; struggling to find time to reach their fitness goals without compromising their everyday life.
My name is Fadil Ameerally. I'm a 35 year-old firefighter in Broward County, Florida. For the past 15 years I've worked my way up the ranks at my firehouse, from a Firefighter/Paramedic to a Driver Engineer to Lieutenant to Captain, and now in my current role, I'm the Battalion Chief.
When I'm not fighting fires, I'm a husband and father to three amazing kids - ages 8, 9, and 11. My wife Jennifer (who is also a firefighter) and I have been married for 12 years. We're both avid CrossFitters who use functional fitness to not only get into shape, but also help us with the various physical demands of our jobs. We train at Broward CrossFit "The Playground Gym" in Davie, Florida, and have two awesome CrossFit coaches – shootouts to Steve and Heidi Bowser!
As a firefighter, on any given day, I have to be in impeccable shape. Whether running into burning buildings, pulling trapped victims from danger or fighting fires with hoses that have enormous weight and hydraulic force (meanwhile having the energy and focus to think clearly), I must be on top of my game, both physically and mentally. Some might underestimate the challenges of these tasks, but I can assure you that if you're not in great shape, you can put your life, as well as your coworkers' lives in danger.
To keep my mind and body in peak condition, I use a varied training regimen that prepares me for any number of scenarios I may encounter on the job. I do CrossFit three days a week, run between 15-20 miles per week, and fill the remainder of my weekly training routine with hill sprints and yoga. My workout goes hand-in-hand with what's needed of me to be an effective firefighter – building endurance, strengthening real-world movements, and sharpening mental focus.
Fifteen years of firefighting have taught me to expect the unexpected and train for the worst case scenarios of the job. I can tell you that wearing 70 pounds of gear, pulling a hose line filled with water through a house, all the while facing extreme heat as you walk into a blazing inferno… will raise your heartrate through the roof and test you in ways you never imagined. There are ups and downs to this labor of love. However, at the end of the day, it's the lives we touch that keep me committed to my calling, whether at the firehouse, at the gym or at home.
I'm thrilled to represent Champion Performance, a brand that stands for everything I live and breathe—working hard on yourself to make a positive impact on those around you. As a part of Team Champion, I look forward to sharing the challenges I've endured and how I continue to overcome them.
In my upcoming posts, I'll share with you my fitness journey as a firefighter and how it's been a catalyst for positive change in all areas of my life and the lives of those around me. Join me as I show how functional fitness ties directly into firefighter training. I'll shed light on the rigorous workouts firefighters endure in order to what we do best. I'll explain how pushing weighted sleds, dragging weighted dummies, and running up countless flights of stairs got me into great shape and keep me performing better at my job.
Thank you for your interest in my story. I hope it inspires you, helps you in your fitness pursuits, and, if nothing else, you enjoy the ride.