Recipe: Chocolate Brownie Protein Waffles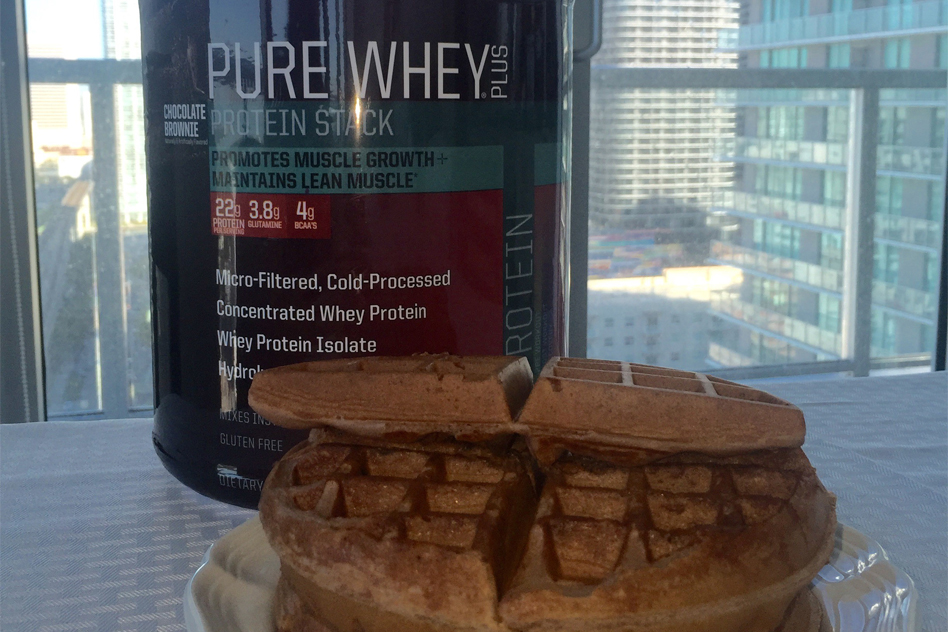 by Janette Janero
After you work out, you need to fuel your body to rebuild your muscles as quickly as possible. You should consume protein immediately after you finish if your goal is to increase muscle mass.
Generally, you should consume your recovery meal within 20 minutes of working out to maximize your post-workout efforts. However, protein takes 1.5 hours to get to the portion of the gut where it is absorbed, but whey protein digests much quicker than other forms.
Protein powder is extremely convenient to pack and easy to consume in a shake.
Think outside the shaker bottle, though, and use your Champion Performance Pure Whey Plus protein powder in the kitchen too!
Here's a creative recipe to make a breakfast favorite lower in carbohydrates and higher in protein. It can also serve as a snack that is easy to make in advance so you can take it with you. In fact, you can double the recipe and store the waffles in the freezer to remove when needed.
Chocolate Brownie Protein Waffles
Makes 2 ½ large waffles
Ingredients:
1/2 Cup flour (whole wheat, almond or any substitute of your choice)
2 Scoops Champion Performance Pure Whey Plus Chocolate Brownie protein powder
½ Tsp. of baking powder
1 Egg (you can substitute 3 tbsp egg whites)
1 Cup milk (almond, skim or any substitute of your choice)
2 Tbsp. coconut oil
Instructions:
Pre-heat waffle iron or grill pan over medium-high heat.
Mix flour, Champion Performance Pure Whey Plus and baking powder in a medium bowl. Stir in egg and milk.
Spoon batter into waffle iron or grill pan and cook for about 45 seconds. If using a grill pan, flip once the bottom starts to get firm.
After plating, top with your choice of ingredients, such as almond butter, whipped cream or low-calorie ice cream. Try to keep it healthy, though!