Never say "I can't"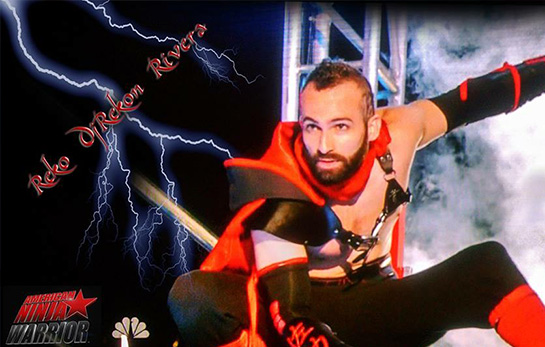 by Reko Rivera
It was the second night at Daytona International Speedway for the filming of "American Ninja Warrior," season nine. I had made it through five treacherous obstacles in the qualifying course and was on to the second round and the city finals.
Out of 121 competitors, I had placed eighth — my best ranking ever. Every year, I edged closer and closer to the coveted first-place spot. But I was just trying to make it to the next round and to Las Vegas while having fun and hopefully inspiring some kids along the way. The competitors who place in the top 30 would advance to the next round, as well as the top five women who placed (unless they were in the Top 30 then they are already in).
Eighth place is a great spot to gain some insight from watching how my predecessors would perform with the changes and the additional four grueling upper-body obstacles.­­
As in most regions, the amount of time you take to complete the salmon ladder is the determining factor for if you move through to Vegas. If you're slow getting on the salmon ladder, you may not make it into the top 15. I have been in 25th, 17th and 16th place. The past couple years have been frustrating getting so close to Vegas, but a lesson comes from all of this.
As a kid, you probably tried all kings of things but were better at some than others.  But if you want something bad enough and don't give up, you can reach your goal. Hard work and dedication always beat talent.
Of course, sometimes we fail when we try new things, but that just teaches us what we need to work on more. For example, I failed the salmon ladder twice in competition, so I analyzed my movements on it and made improvements. The process boosted my confidence, and I've had little trouble with it since then.
Another lesson from failure? Rallying back mentally stronger. You may have nothing left to lose but everything to gain. After targeting your training, you'll put it to the test. And you'll be smarter, stronger and faster. Nothing can stop you!
When I was younger, I learned not to say, "I can't." I may not be able to do something yet, but eventually I can. The word can't isn't in my vocabulary. You never hear me say I can't beat a city finals course; I just haven't done it yet. But this time, I placed 12th.
Next stop: the national finals in Vegas!