Even coaches learn lessons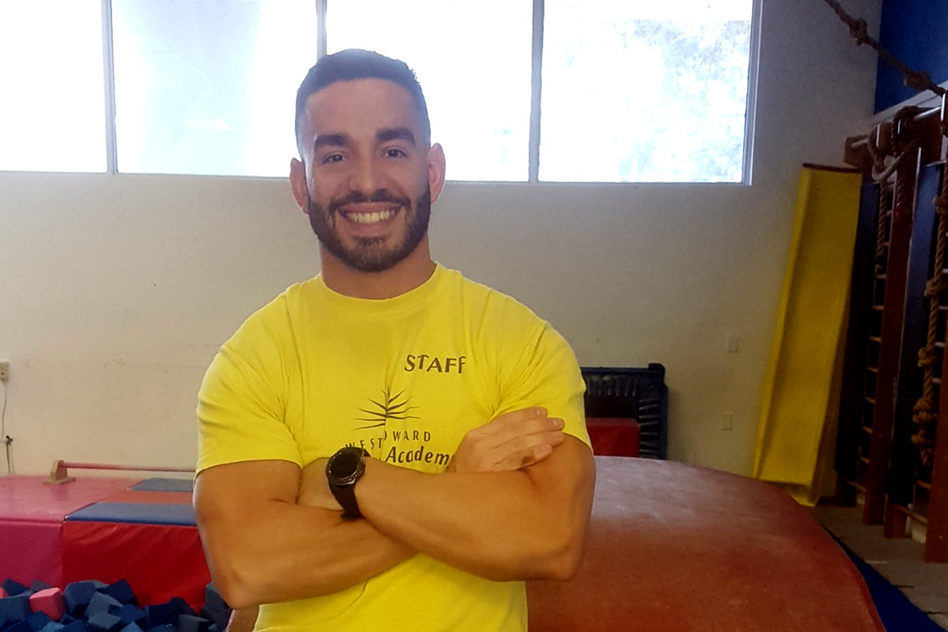 March 26, 2011, was a day I'll never forget because I learned an invaluable lesson.  
The location: Tampa, Fla.  
The event: USA Gymnastics Junior Olympic Level 10 state meet competition.  
The lesson: Pride comes before a fall.  
My name is Jon-Erik Perez and I began my gymnastics coaching career in June 2007 at age 22. I was a former acrobat looking for a facility where I could tumble and work out, and I ended up being offered a summer job at West Broward Gymnastics Academy in Davie, FL.  
Working five days a week, I started off teaching recreational classes to children who took gymnastics classes multiple times per week. I also became the tumbling coach of their cheerleading program.  Then I moved to the lower level competitive team of athletes (levels 1-5), who worked out from five to 20 hours a week.  
I slowly increased my knowledge base through the help of other coaches, workshops, coaching clinics, symposiums and countless hours of watching YouTube videos. When new coaches arrived, I picked their brains to build my skill set as a coach and spotter. I constantly asked questions and wanted to do things a better, more efficient way. 
Within two years, I graduated to an upper level optional coach (teaching levels 5-10). These athletes trained from 20 to 35 hours a week. Stronger skills, higher risk, bigger responsibility. I was in charge of a talented group of veterans who had proved their mettle at dozens of state, regional and national competitions.  
During my first season with them, they accrued many first places on all events — vault, uneven bars, balance beam and floor. Several won the all-around award at each local competition. Three of them placed first at the local level on the primary event that I coached: vault. My confidence was at an all-time high.  
On the last day of a 2011 state meet, I felt an unfamiliar calm sense of assurance as my level 10 squad warmed up. My two younger gymnasts had been completing their routines with strength, poise and grace, and they were on their way to qualify for the regional competition. However, my senior athlete — the one I never worried about — was struggling. She had fallen on her dismount from the uneven bars and received her lowest score of the season. She also had fallen twice on the balance beam. But she began her floor exercise reinvigorated and focused, and her score tied her season's best for that event. As we rotated to her last event, we knew she needed to score 9.375 out of 10.0 to qualify for the regional meet..  
She had scored well on the vault all season, so we felt confident during our final warm-up. Her first vault had a start value of 9.7, while her second, more difficult vault with a full twist had a value of 10.0. She looked strong as she executed both of these during warm-up.  
It was time to compete. The judge raised the green flag, and she charged down the runway with an intense ferocity. She leaped, struck the springboard, flipped and twisted her tuck full toward the sky. She finished her final half twist and prepared for landing. When her feet touched the landing mat, she stumbled backward and fell. Her score: 8.9 — 4.75 tenths lower than what she needed. What would I say to her and how would I act?  
She looked frustrated as I asked if she was hurt or injured. She shook her head no. The bonus of the vault is that you get two opportunities on it, unlike the other events. So I asked her if she could stand up to her more difficult vault. I saw her confidence and felt reassured to let her go for the riskier skill.  
The judge waved the green flag again. As my athlete charged down the runway, our head coach ran toward the vault table where I was waiting. She exploded off of the springboard and ricocheted off the table. This time, she was flipping higher and twisting faster. Her feet touched the landing mat a split second before she flew backward and landed on her bottom for the second time. Her score didn't matter now.  
Our head coach made it to us as she stood up to salute the judges for the final time of her high school gymnastics career. He had been trying to warn us not to risk the higher value skill and to play it safe.  
I gambled and lost. I had learned a valuable lesson: sometimes pride comes before a fall. Unfortunately, it came at a rather high price.