A bittersweet finish on all-stars "Broken Skull Challenge"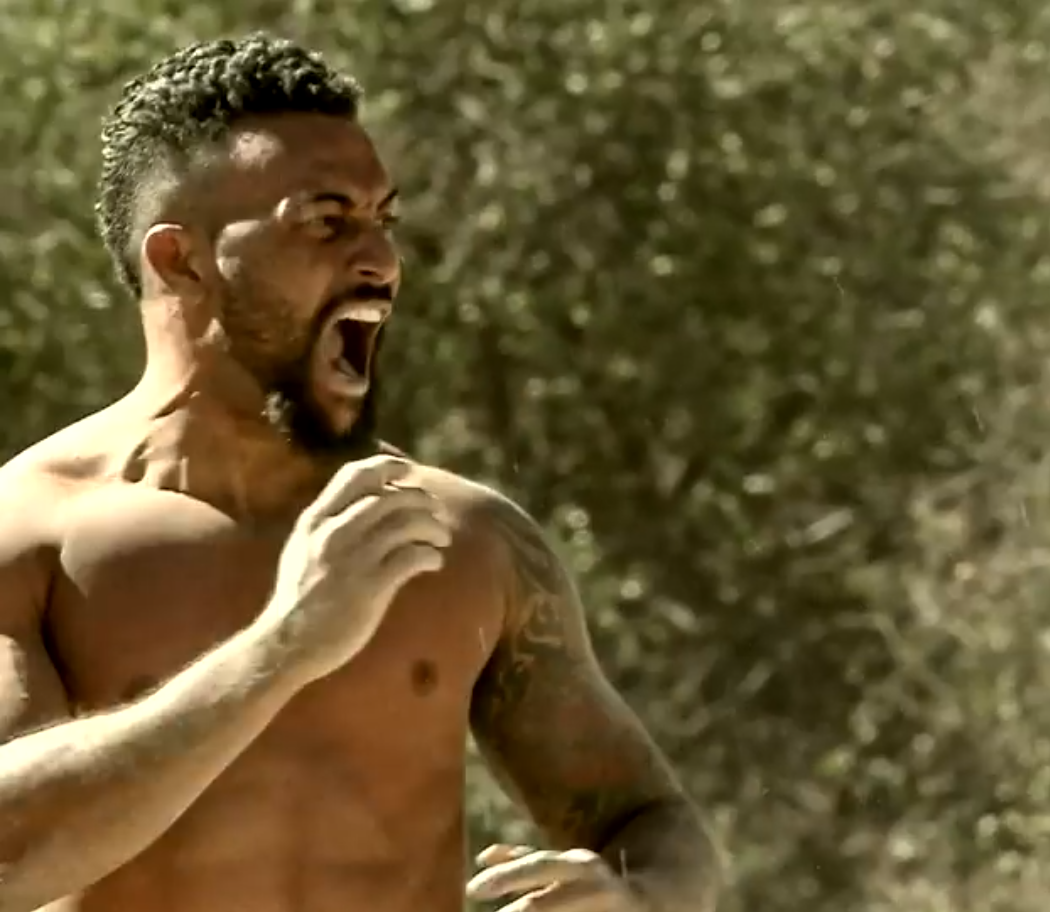 The time had come on the all-stars "Steve Austin's Broken Skull Challenge" to see if all my training had paid off. I had been dreaming of running the Skullbuster since I lost the chance in Season 2.  It's an obstacle course that attacks the strength, endurance, and willpower of athletes who endure as the last one standing on each episode of the reality TV show.
After winning my first round, I got the opportunity to watch Mack Roesch, my "Spartan: Ultimate Team Challenge" teammate, win his last round and advance to the Skullbuster. How awesome would it be if I won this next round and we both got to run the Skullbuster?
Next up for me was Chain Gang, where three chains hang on two posts about 50 yards apart. Each chain gets progressively longer and heavier. You start by running down the field, grabbing one chain and running with it to the other side. Then you grab the other chain and lug both of them back to the opposite side. Finally, you grab the longest, heaviest chain and heave all three of them across the finish line.
On my final stretch of Chain Gang with all the chains on my shoulder, I glanced over and saw my competitor finish before me. No problem, though, because I was allowed a full minute to step into The Pit once he finished before I would get disqualified.
By taking my time getting to the finish line I had conserved some energy whereas I saw my competitor a little more spent. When Steve Austin, a Hall of Fame pro wrestler, yelled that I had 40 seconds left to step into The Pit, I lingered a little longer to catch my breath. My competitor taunted me with, "What are you waiting for? Let's do this!" But I didn't let that get to me and continued until I was good and ready.
Finally, I stepped in and instantly slammed him to the ground and had the dominant position. Little by little, I nudged him to the edge, but he moved us back to the middle. This continued until we were exhausted. He finally managed one last burst and pushed me to the edge.
I kept thinking to myself there was no way I was going to lose this one especially when I was within reach of the Skullbuster.  That is when I gathered every last bit of my strength and I wrapped my arms around his waist, picked him completely up to where his whole body was vertical over me and I fell backward and slammed him outside The Pit for the win with an epic finishing move. I was ecstatic!
The next day, I stepped onto the ranch ready for the Skullbuster, but I had to beat Mack's time. I went first and was killing it, but the course was destroying me little by little. As I reached the final obstacle, a 25-foot rope climb, everything in my body was hurting. My last bit of energy and willpower drove me up the rope, and I rang the bell for the finish. Of course, I felt a sense of accomplishment, but I was nervous because I'd made some risky moves that didn't pay off and cost me some time.
Next up was Mack, who finished too. Steve lined us up to announce the winner: Mack. I couldn't be mad, though. I had proven I could make it to the end and beat the Skullbuster. Unfortunately, I got beat by a couple minutes, so I didn't get to take home the $25,000, but it was still amazing to compete with such an elite group of athletes and experience this show a second time.