Becoming A Ninja!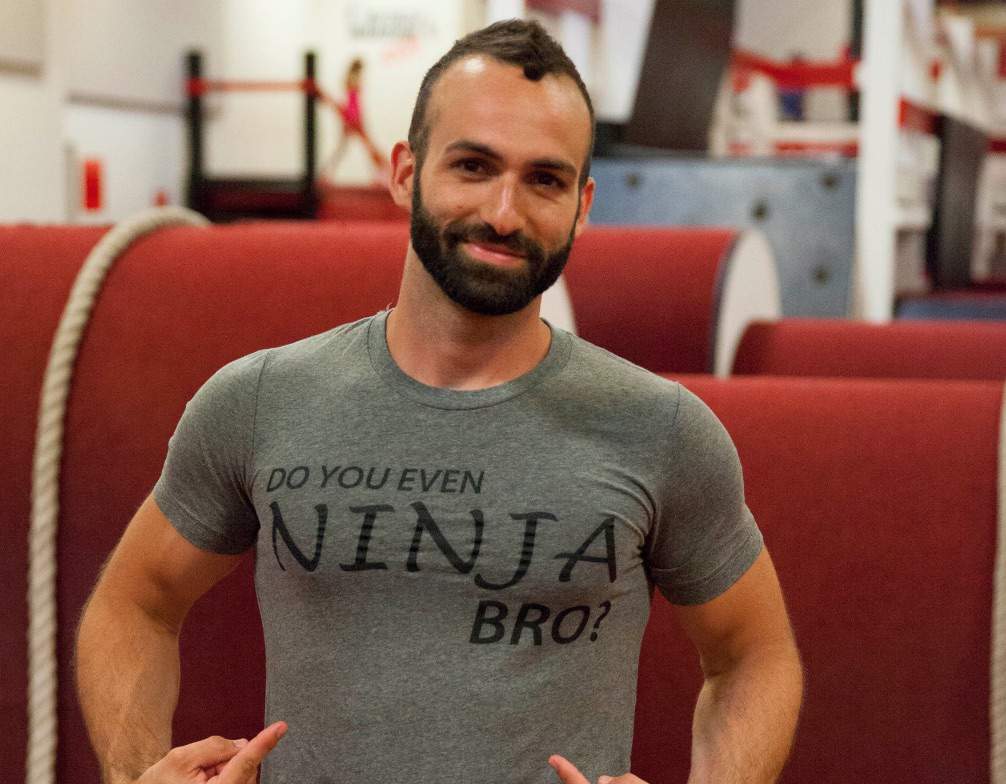 by Reko Rivera
Hello, my fellow champions! I'm Reko Rivera, a 6-time American Ninja Warrior competitor, and fitness athlete. I'm 31 years old and hail from Tampa Bay, Florida – the Sunshine State!
Not only am I a ninja, but I'm also a professional entertainer. I work at an Orlando theme park as a stunt performer and a marvelous costume character, if I say so myself. I also breathe and spin fire.
I try to do a little bit of everything, but most importantly I like to have fun, enjoy life, family, and friends. I've consistently been into fitness since the age of 14 when a friend of mine introduced me to weight training. As I got older and stronger I became motivated after beating a few personal records, including bench pressing almost twice my bodyweight—weighing in at 148lbs and pressing 295lbs at the age of 20.
As a kid, I was in gymnastics for a short time but was abruptly taken out due to my parents' finances. Growing up, I always wanted to get back into the sport. Then when I was 21, I started attending open gyms; learning how to tumble again.
After that, parkour became the big thing on the scene and I instantly wanted to add those movements to my repertoire. Little did I know, all that strength and agility training would pay off one day. Because at the age of 26, I ran my first attempt on American Ninja Warrior – season four of the show.
Since the old cable channel G4 days, I've always been a fan of the show Sasuke, the Japan-based predecessor to American Ninja Warrior, which used to air here in the US. There was just something about the show that drew me in. The perceived impossibility of beating "the mountain" – the course Sasuke competitors strived to complete – drew a lot of us aspiring athletes in. (Only two men had conquered it at that time.)
But it was more than just the course. The spirit and culture of Sasuke was compelling. The love and support each Sasuke competitor had for each other was admirable. They were like a big family. You could feel their roller coaster of emotions as their brothers ran the course and the honor of beating the mountain! After all, it wasn't beating each other, what they were focused on was defeating the mountain.
Soon after, the U.S. got in on the deal and created its own much, much smaller version of Sasuke. The American Ninja Challenge was born. I saw guys my size taking on this "easier" version of Sasuke and thought, "I could do that." So I looked it up and tried getting on the show.
However, I actually didn't get a call back my first year (my submission video wasn't very good). Then, after finding out the show was filming in Miami, I hustled down to South Florida and ended up getting a chance to 'walk on' the show.
Before I knew it, I was standing at the start of the course. It was surreal. Little did I realize, that moment would be the start of a new path in my life.
Since then, American Ninja Warrior has given me the opportunity to inspire others and make some amazing friends all around the world. I even got to travel to Japan to audition for my dream show Sasuke, which was a very rare opportunity.
And kids love American Ninja Warrior. Any chance I get to do appearances with kids is a humbling experience that's incredibly rewarding for me. Seeing the smiles on their faces makes all the sweat, blood, and tears of training worth it.
American Ninja Warrior has challenged me physically and mentally in more ways than I ever imagined it would. I'm excited to share with you many of the things I've learned along my journey of fitness, training, and competition with the show.
From Salmon ladders to calisthenics, I will highlight the dos and don'ts of... Full body functional fitness, which will turn you into a ninja Champion!