3 Minute Fast & Fit Banana Nut Protein Pancakes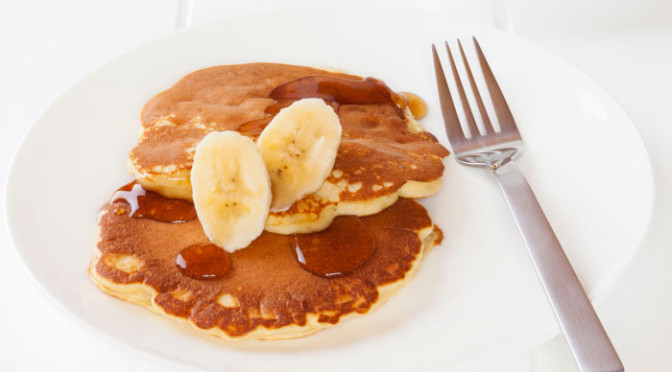 I'll admit I'm not the most domesticated female in the kitchen.  However, I DO know what tastes good, the right balance of nutrition, the right foods for energy, and how to whip it up into a meal quickly!  Here's one of my favorite protein pancake recipes that's perfect for athletes and anyone looking to get in shape!  I would love to hear your comments after you make it... Enjoy!
Ingredients
1/2 scoop Scoop Pure Whey Plus Vanilla or Banana Cream Pie
4 Egg Whites
1/3 Cup Oatmeal
1 Tablespoon Chopped Almonds/Walnuts
1/2 Tablespoon Flax Oil or Coconut Oil
1 Teaspoon Stevia
Dash Cinnamon
1 oz Sliced Banana
1/8 cup water
Directions
- Mix protein powder, egg whites, oatmeal, nuts, stevia, water and banana in a mixing bowl
- Pour mixture onto a covered stovetop pan, and flip when the bottom is slightly browned.
- Drizzle Flax Oil or Coconut Oil on top, and sprinkle with cinnamon!
Nutrition Facts
26 g Protein
31 g Carbs/Fiber
10 g Fat
318 Total Calories
Be sure to add or subtract the amount of any ingredient to fit your dietary needs and goals!  If you have any questions, don't hesitate to email me at [email protected]!  Hope you enjoy!