Three Best Exercises to Train like a Firefighter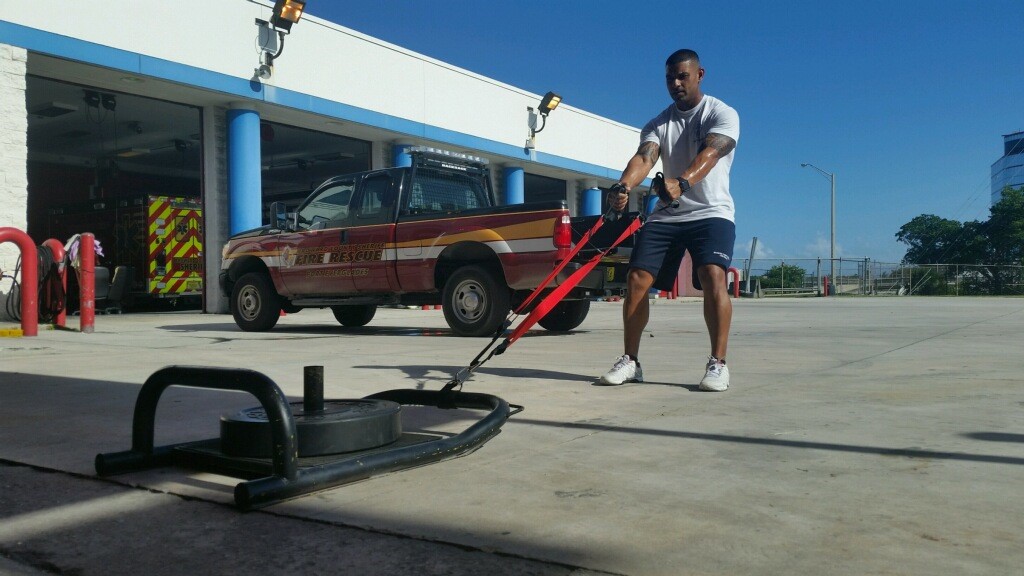 Many people think firefighters have an easy job. They think to themselves "how many fires can I possibly get." Well, although firefighters might not fight a fire every day they go on shift, they must constantly train for one. Being a firefighter is not an easy job, and that goes both mentally and physically. I remember when I first got hired at the fire department. I was ordered to carry a portable hydrant onto the top of a cargo ship, all while being in full bunger gear and carrying other tools. For those of you that do not know what a portable hydrant is, it's a metal device placed on the ground where a hose coming from the main hydrant connects to. This allows firefighters to connect multiple hoses to the portable hydrant.
So, on my first day, I put all my gear on and then had to carry this device that weighed more than 75 pounds while walking up a steep flight of stairs on the side of a huge cargo ship. Being a new firefighter I thought to myself that I could do this no problem and wouldn't have any issues at all, so I started walking up the stairs.
Around half way I felt my legs starting to burn and my arms were already dead from trying to hold the portable hydrant in one arm while holding the railing with the other. As I almost reached the top the device began to slip out of my hand and fell down onto the stairs and almost went over the railing. I quickly jumped on it and stopped it from going farther.
When I looked down underneath where I was laying which was about 40 feet up, there was one of my Chiefs standing looking up. Had I not jumped on it quick enough that device would have fallen straight down and landed on him and could have drastically harmed or even killed him.
That was a wakeup call for me; I simply was not strong enough and needed to get in better shape. I did not have the strength that was needed to do my job, and I couldn't just overlook it. I had to get physically stronger for myself, as well as my fellow firefighters.
It made me realize my path to physical fitness had just begun and I had a lot of work to do. From that day on, I vowed to work on my weaknesses and in doing so, I realized that there were three foundational exercises or movements that all firefighters needed to master
Three Foundation Firefighting Exercises:
Climbing stairs – firefighters need to have a good cardio base and they benefit the most from climbing stairs preferably with a weighted vest.
Sled push/drag – firefighters are constantly pulling hose lines down the street or through houses and pushing/dragging a heavy sled is perfect training for that.
Shoulder Press – firefighters use their shoulders with almost every task such as pulling down ceilings looking for fire extension in roofs, or hoisting ladders up to the roof for various tasks.
These three exercises are critical for all firefighters and are a must to stay in great shape to perform at your highest level. If you can work these into your fitness routines, you'll be well on your way to training like a firefighter.