Mind Over Matter – Spartan: Ultimate Team Challenge – Round One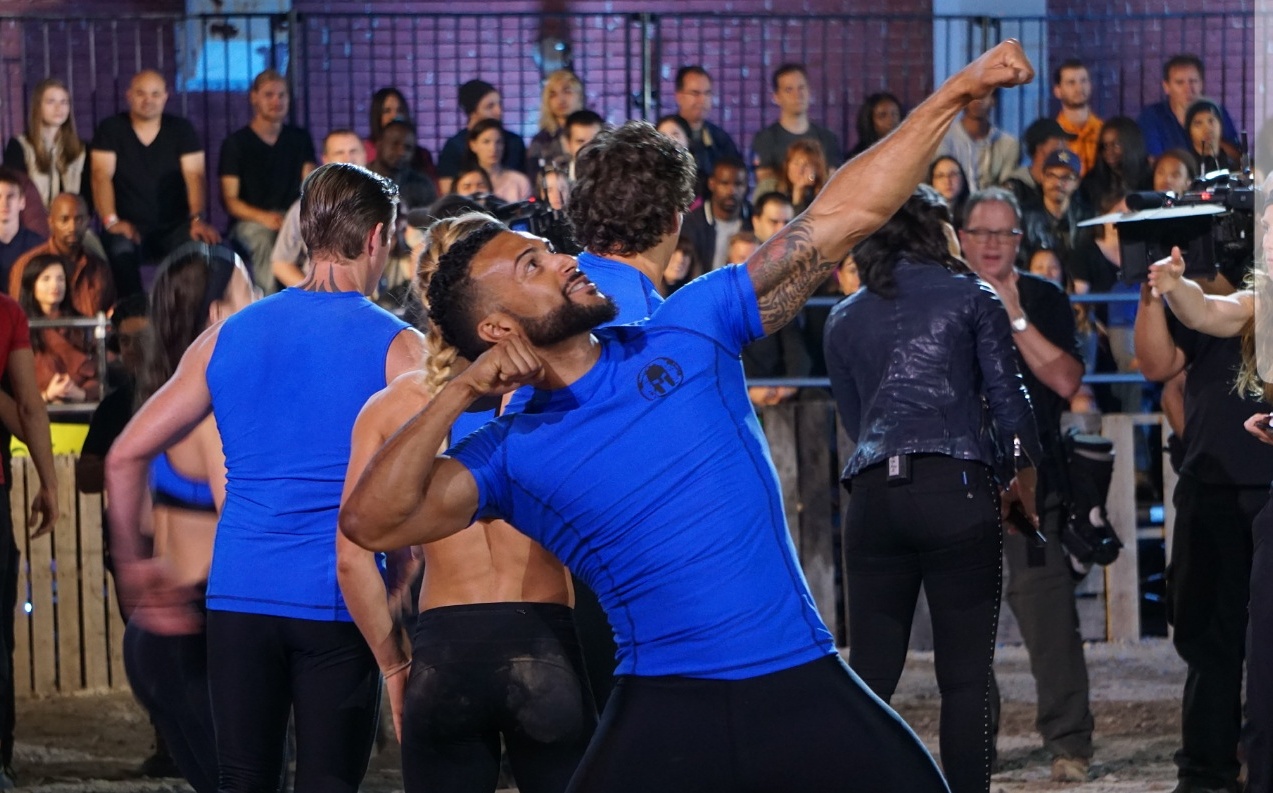 I have done plenty of TV shows in multiple seasons, but none of them can compare to the amazing time I had filming Spartan: Ultimate Team Challenge Season 2. Just getting selected for the show was both rewarding and a blessing due to thousands of talented applicants with only 24 teams being chosen.
On the first night I arrived in Atlanta, GA, my team and I got situated after a short meeting, and called it a night. The next day we had to wake up early for shooting some B-roll footage at a local CrossFit gym. The cameras were rolling and I was in my element, so I definitely had to show off my skills for some great footage.
My team and I went crazy showcasing our strength, balance, and agility. We were swinging from rope to rope, doing handstand walks across the building, and I was even doing burpee backflips and balance while walking on top of a huge tire as one of my teammates was rolling around inside.
After having fun and doing what we do best, we grabbed some lunch and headed back to the hotel. I was then sent to a medical evaluation to get the green light to race. As soon as I passed the medical exam, I immediately had do an interview about my background, thoughts about the race and my strategy, and how my team came to be.
The next day all we had was a huge meeting in the hotel's conference room with the entire cast and production to go over every obstacle and the rules. Things started to get real at that point because it was the first glimpse we got of all the obstacles, so I immediately started to strategize how my team and I were going to traverse through them in the most efficient way possible. Our game plan was on point as we meticulously broke down every obstacle. In theory our plan was flawless; it was just executing the plan when it mattered.
The next day as nightfall came and our transport picked us up to go to the set, tensions were high and the nerves were flowing through my body the whole ride. Finally, after arriving on set a sense of calmness and maybe even arrogance came over me because my team was super confident about this course. Shortly after it was time and we were on that starting line facing off against last year's winners, another great team.
3, 2, 1, GO!!!!! I blasted off the starting line and my team powered through the first couple obstacles. Then I was quickly humbled when a "Flash Pump" came over me and I couldn't feel my arms. I knew I had to stick in there for my team, so I gave it everything I had to stay in the fight. I'd depleted my reserve tank and had to go all mental at that point because I needed to be there for my team.
In the end, we made multiple mistakes during this race while we learned how we all raced as a team, but even with those flaws and it being a close race our team "Strike a Pose" pulled off the win. I was both disappointed with my performance and happy and relieved that we were advancing to the next round. This humbling first course gave me exactly what I needed to know what to do to perform the next race flawlessly. I knew I had to properly warm up to avoid the "Flash Pump" and pace myself between obstacles. Now, with some experience in this course and knowing what to do, we couldn't wait for our next race to really show America what we are made of.